I have some new photos from an old shoot with
Shawn Bishop
at Scarlet Door Studio :) They are a bit different from my "usual" retro look, but I really like them and would like to do more photos like this, with what I always think of as a
Mechanical Animals
kind of a look. They actually played the album in the studio while we were shooting to help me get in character!
Hair and makeup: meee
I adore the art work from the various eras of
Manson
. He is still one of my favourite models- always able to perfectly project character and scenario through pose, self-styling and expression, always a strong presence on camera, always demanding a connection and response from the viewer. Many of his photos from the 90s and Noughties are what inspired to me to want to model in the first place, for example: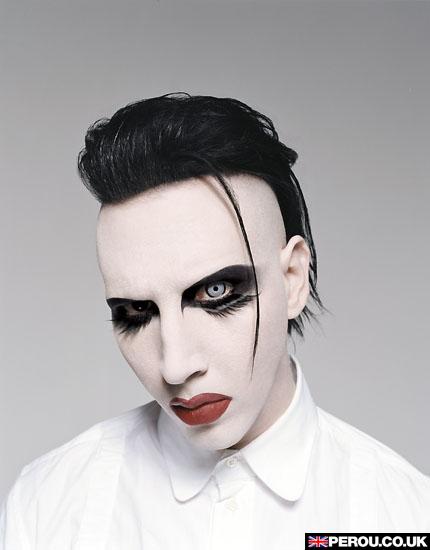 I remember posting that last photo on MySpace, which just shows how long ago it was, along with a blurb about having just found this photographer, Perou, and my somewhat fantastical dreams of working with him one day. In my defence, I may have only been modelling for less than a year at the time, but even then I knew it was fantastical. Perou also took some of my favourite photos of Dita, whose book I was probably dissecting with absolute ardour at the time (I still like it now).
I think maybe a couple of people reading this did actually read my old MySpace blog too back in the day and so might appreciate this.
PEROU MESSAGED ME ON
FACEBOOK
TO ASK ME TO HIS PARTY LAST FRIDAY AND I WENT AND WE HUNG OUT AND HE SAID HE LOVES MY LOOK AND WANTS TO WORK WITH ME AND I DIDN'T FAINT OR THROW UP OR NOTHIN'.
In fact I took his card and called him today and am meeting him at the
Bunker
on Friday to talk it over. *insert head-exploding emoticon here*
And
I was actually able to carry out a reasonably sensible conversation while dressed like this:
It's no exaggeration to say that I think Perou is one of the best, if not the best people photographer alive today, and yeah, it's almost pathetic how many times I've named him in interviews when the magazine person inevitably asks what my dream shoot/ project would be.
I'm like
right now :o
*faints*
It goes to show that you might as well be optimistic because you never know what's waiting for you in the Futura.
Anita xxxx
Tweet